A130F Portable Dehumidifier
February 10, 2021
Dual 105 Dehumidifier
February 10, 2021
AS35FP Steam Humidifier
See Instore For Pricing & Availability
277 Pints/day – 34.6 gallons/day
Built-In Fan Pack
Humidistat Control (model A65)

AS35FP Steam Humidifier with Built-In Fan Pack & Humidistat Control (model A65)
Anden AS35FP Steam Humidifier, designed for cultivators to maximize yield and optimize plant health. The Anden Medium-Capacity Steam Humidifier with fan pack delivers reliable steam humidification to your grow room, capable of adding up to 277 pints (34.6 gallons) of moisture per day. This unit distributes steam evenly throughout your space, using a dedicated, built-in fan pack that is powered by the humidifier itself. This allows for ductless installation, making the AS35FP a versatile option for any space that needs tight humidity control. Check below for the full list of industrial specs and grow-optimized features that will set your operation apart.
Features
277 Pints/day – Deliver pure, clean steam to achieve ideal conditions for your plants (equivalent to 34.6 gallons/day)
Built-In Fan Pack – Designed to mount directly on top of the humidifier or above the humidifier at canopy height for easy, ductless installation and even steam distribution
Electrode Technology – Steam is created by passing energy between two electrodes in the disposable steam cylinder for fast, clean, and efficient moisture production
Easy to Maintain – The electrode heating system removes the need for cleaning the steam canister. When needed, you can simply replace the canister
Flexible Installation – The AS35FP works with your existing ductwork to evenly distribute moisture throughout your facility
Included Control – Humidistat Model A65 offers dedicated monitoring and control of each steam humidifier at canopy height
Display Panel – Shows fill, drain, steam operations, and diagnostics alongside the on/off power switch
Backflow Protection – The air gap built into the fill cap prevents excessive pressure buildup
Water Level Sensor – The humidifier automatically manages the water level in the steam canister to prevent overfilling
1-2-3 for VPD – The unit constantly monitors humidity, making it simple to reach the optimal Vapor Pressure Deficit for maximum growth
Built to Last – Dependability is at the heart of what we do. That's why we offer a 5-year warranty on all parts of this commercial steam humidifier–so you can grow with confidence
Humidity and Growth
Humidity control is critical. As a cultivator, you know that. Each stage of growth requires an optimized environment. That's why we recommend keeping tight control over humidity ensuring transpiration rate and CO2 levels are optimized for efficient photosynthesis.
The Anden Impact
Anden steam humidifiers put you in control of your grow environment. You get maximum moisture monitoring capabilities with the wall-mounted control to make it all intuitive. Simply put, these grow-optimized products are designed with your plants in mind.
Vapor Pressure Deficit
For optimal indoor growth, don't forget about VPD. It's a measure of the difference between vapor pressure in the leaves of your plants and the air surrounding them. Humidity control in the grow environment helps ensure that plants can "breathe" by taking in moisture and letting it out.
INSTALLATION OPTIONS
This Anden Medium-Capacity Steam Humidifier requires no ductwork thanks to the built-in fan pack. You can use it wherever you need high-capacity, reliable humidity control.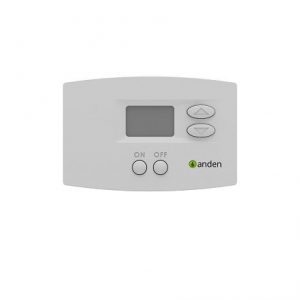 INCLUDED CONTROL
Humidistat Model A65
Comprehensive control for the Anden Medium-Capacity Steam Humidifier. This wall-mounted humidistat offers a large LED display and the ability to lock in your preferred relative humidity. It delivers dedicated monitoring and control of all your steam humidifiers at canopy height for accurate readings and optimal results.